Try my Windows based D64 Editor
(Latest version released November 28, 2016)
Commodore 64 Emulation
If you aren't sure what a c64 emulator is, basically its a program that you run on your computer to make your computer act like a real c64. You will need an emulator to play any of the games on my pages. You can also transfer the games back to a real c64 with the proper equipment. I don't use an emulator since I still use a real C64 but the emulators I would recommend are CCS64, C64s, and VICE. Also, if you're using CCS64 or VICE, you might want to take a look at Gamebase64 for a nice frontend to use with them.
VICE
VICE is a very good emulator that has versions that run on a wide variety of operating systems including DOS, Windows95/NT, and Unix. This emulator also has a very easy to use interface and the actual c64 emulation is very good as well. The 1541 drive emulation is also excellent and is even good enough to load many copy protected games, including games in .G64 format. The true drive emulation mode is also just as slow as a real 1541, while the fast emulation mode speeds up loading quite a bit. This emulator is also updated fairly frequently, and the best part is that its available for FREE. You can download VICE from the VICE Homepage.
CCS64
CCS64 is a more CPU intensive emulator, and requires at least a Pentium processor to run acceptably. It also should have no problems running in DOS and Windows95. The user interface of this emulator is also pretty simple to use, press F9 after you've started the emulator to get into the interface. The 1541 drive emulation also seems to be very good, and is able to load most of the programs that use built in fastloaders. It is also very accurate by emulating the slowness of the 1541 drive. You can download CCS64 from the CCS64 homepage.
C64s
C64s is an outdated emulator and you probably don't want to use it unless you have a slow computer. C64s will run quite well on a 486, and should run in both DOS and Windows95. The user interface is pretty simple to use, press F9 after you've started the emulator to get into the interface. The actual c64 emulation is good enough to allow you to run most programs with no trouble, and the 1541 drive emulation mode will also load many of the games with built in fastloaders. There are two 1541 emulation modes, FAST and FULL emulation. FAST emulation loads programs very quickly and works as long as the programs don't try to use their own built in fastloader. FULL emulation mode is what you'll want to use if the program uses its own fastloader. FULL emulation also emulates the slowness of the 1541 drive very well. This emulator is also the oldest of the emulators I've listed, and unfortunately hasn't been updated for years. You can download the shareware version of C64s 2.52 (409k) here.
---
My favorite C64 games
The most use my Commodore 64 got was from playing video games. There were alot of games made between the years 1983-1993. Some were quite good but there were many that were horrible and not worth the diskspace they took up. The games listed below are some of my favorite games that I spent countless hours playing. All of the games are in .D64 format and should hopefully work on the various emulators, although I can't guarantee that they do. They all work on a real c64 though, so as always I recommend using a real C64 to play them. One additional thing I'll mention is that since I'm from the US, all of the games on my website should work correctly on an NTSC c64, they may not work on a PAL c64 though.
Defender of the Crown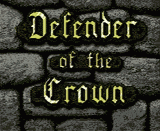 Defender of the Crown was released in 1987 by Cinemaware, who were best known for their dazzling graphics in their games. The basic plot of the game is to defeat all the Norman lords and return the crown of England to its rightful owner. You can weaken your enemy in a variety of ways such as raiding their castle, jousting against them for their land, or just taking their castle outright. When you take over an opponent's castle you also gain any land that they owned. Occasionally you'll be called upon to rescue the daughter of one of your allies, and if successful you win her hand in marriage. The action sequences are very well done, like the jousting scene for example, and a fair amount of strategy is needed to win the game. All of these qualities make this my favorite C64 game.

To download Defender of the Crown, click here. (179k)







Hardball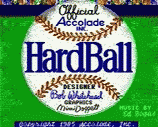 Hardball was released in 1985 by Accolade and was one of the very first games I ever bought for the C64. The graphics were above average for the typical baseball game but the gameplay had some serious flaws in it. Batting averages or a pitcher's ERA didn't seem to affect the gameplay at all. How well a player batted was determined by where he was placed in the batting lineup. Another major flaw was the amount of time it took the ball to get thrown from the outfield back to the infield. If you tried to make a long throw from right-field to 3rd base, it would usually take the ball close to 30 seconds to reach the base. By then a runner could easily be safe at home. Even with these drawbacks, it was still a fun game to play and one of my favorites. Recently while I was going through my old disks I found my copy of Hardball 2. It's the same game as Hardball, except that it was hacked to add some more teams like the Yankees, Mets, Red Sox, and others.

To download Hardball, click here.

To download Hardball 2, click here.



Mini-Putt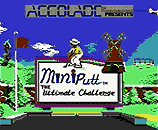 Mini-Putt was released by Accolade and is my favorite miniature golf game for the C64. The courses are well designed and it is a challenge to even get par on a course. The game is very realistic in that it has the usual miniature golf obstacles such as water hazards, moving obstacles such as windmills, and it takes slope into account. If you're putting uphill then you have to hit the ball with more force, and the opposite for putting downhill. The only thing lacking from this game to make it truly realistic is being able to hit the ball off of the course entirely.

To download Mini-Putt, click here.







Maniac Mansion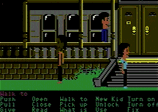 Maniac Mansion was released by Lucasfilms in 1987 and is a very good puzzle solving game. The main object of the game is to use three of the characters to explore the mansion and rescue your friend Sandy from the mad scientist and the meteor. There are also a few sub-plots such as getting a recording contract for the green tentacle. This game has a nice command system that allows you to point and click with the joystick, or mouse if you have one, instead of using the keyboard. It also has multiple endings, depending on which three characters you pick, so you can play the game more than once.

To download Maniac Mansion, click here.





The Three Stooges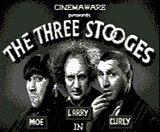 The Three Stooges was released in 1988 by Cinemaware and also has excellent graphics. The main object of the game is to earn enough money to save an orphanage from being closed. The stooges earn the money in a variety of ways from working in a hospital to boxing against the champ or by answering various trivia questions. There are also four different endings to the game that depend on how much money you earned.

To download The Three Stooges, click here.








Impossible Mission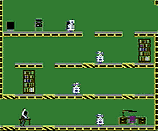 Impossible Mission was released by Epyx in 1984 and is one of my favorite c64 games of all time, and it could be argued that it is the best c64 game ever produced. The basic plot was to defeat a mad scientist named Elvin by searching through all of the rooms and gaining enough puzzle pieces to learn the password and stop him. You have 6 hours of real time to finish the game, but each time you die you lose 10 minutes. You also have to avoid killer robots that are in each room that try to electrocute you. There are also some smaller puzzles in the game like the checkboard rooms. In the checkerboard rooms you have to play back the musical notes from lowest to highest note, and if you're successful, you'll win either a snooze or a lift reset. Its a fairly challenging game but with practice it can be beaten in a short period of time.

To download Impossible Mission, click here.



Want to know more about 8-Bit online slots? Click here and read the article.
---
C64 Music
The Commodore 64 was not only known for its great games, it also has the capability of playing great music. The soundchip used in the C64 was the SID chip and it allowed the C64 to produce much higher quality sound than the other computers from that time period.

Please visit the High Voltage Sid Collection List of SID Players to download a program to play Sidtunes. Alternatively you can download a plugin for Winamp 2.x (SidAmp 1.4b)


If you're looking for a lead synthesizer, the first lead synthesizer for the Commodore 64 was called Fastfingers and used a Mattel Intellivision Keyboard with full size keys! It also had 256 distinct, rich 3 voice sounds and a sequencer to play fast arpeggios with a single finger.....hence FASTFINGERS. Dan Laskowski has recently added MIDI INPUT, and hopes soon to be adding PITCH TRACKING to FastFingers, so that anyone who can hum will be able to play this instrument.

You can download tons of C64 music from the High Voltage Sid Collection. If you like remixes of c64 tunes, C64 Audio is a great place to download c64 music in midi and MP3 formats. Another good place to get c64 midi music is the Commodore 64 Midi Gallery. Also take a look at remix.kwed.org for some more great MP3 covers of c64 tunes, Chimera is definitely my favorite one. Another great source for c64 music is Slay Radio which features streaming c64 remixes in MP3 format. If you're using a windows version of the SID-Player you might want to take a look at Gamebase64 for a nice frontend to use with it.

Please visit the website netticasinosuomi.info to learn how to play roulette, slots, baccarat, blackjack and many other online casino games.
---
Utilities
Visit the Fairlight C64 Tool List for just about every utility imaginable.
D64 Editor - My own Windows based D64 Editor.
64Copy - The most complete C64 Disk Editor available.
Star Commander - Probably the best program to transfer files between your PC and 1541 drive. It supports the X1541 and XE1541 cables, along with many others.
CBM4Linux - A disk transfer program for Linux. This is the program that I use to transfer disks to and from my real c64, and it works great. You'll need a sleightly modified XE1541 cable to use the program.
C64 Sprite Ripper - A very useful program for ripping the sprites from c64 programs into PC image files.
ConGo - A great program for manipulating c64 picture formats, with newly added support for disk images.
D64 Lister - A windows based program to display the contents of your D64 files with strong support for GEOS files.
Trans64 v1.25 - Another transfer program for the PC, unfortunately it hasn't been updated in a very long time and only supports the X1541 cable and does not support the XE1541 cable. If you get a runtime error when trying to run Trans64, download a copy patched for 686's.(307k)
LHA v2.55 - This program is used to decompress files with an .LHA suffix. Hold down "shift" to download. (65k)
Zip2Disk - Occasionally you may come across a file that is in four numbered parts that start with 1!, 2!, 3!, and 4!. This program will convert the four files into a .D64 file. (15k)
Disk2Zip - The opposite of the above program. This program will convert a .D64 file into C64 zipcoded files with the four numbered parts. (15k)
Unlynx - This program is used to decompress files with an .LNX suffix. (19k)
D642T64 - Program to convert files on a .D64 image into .T64 files. (11k)
---
X1541 Cable
If you are still using a real c64 and you also have a PC you will find that making an X1541 or XE1541 cable is well worth the time and effort. The cable allows you to connect your 1541 drive to your PC's parallel port and transfer files and disks to and from your real c64. Listed below are a couple of links to the documentation you will need to make your cable. Once you have your cable built you will need a program like Star Commander or CBM4Linux to transfer the files.

The X1541-series interfaces - Here's the website that you'll want to visit if you plan on building your own transfer cable.

If you don't feel up to the task of building the cable yourself then you should visit The X1541 Shop and they'll be happy to hook you up with one, at a very reasonable price. One additional note, unless you're using a very old computer, like a 486 or earlier, you will more than likely need an XE1541 cable and NOT an X1541 cable. To determine if you can use an X1541 cable or not, run the X1541Test. And when in doubt, send me an email and I'll try to help you find what you need.
---
Links to Commodore related pages

Link to the Abandonware Ring of Sites
COCOS (Commodore Computer Sitelist) - Tons of links to other Commodore webpages, with more constantly being added. You can find pretty much everything related to the C64/128 here.
The Gamebase64 Homepage - A site containing nearly any C64 game that you can think of as part of the Gamebase64 Collection as well as a nice frontend for use with a couple of the emulators and the sidplayer.
C64 Portal - Commodore 64 related news.
The C64 Scene Database - If you're looking for C64 scene releases, utilities and other goodies, find them here.
Lemon - The C64 Game Source - A very good c64 site with lots of c64 related information, including a forum to talk about c64 related things. Definitely worth visiting.
Commodore 8bit Search - A new site that indexes files located on other Commodore related sites.
C64 Preservation Project - A website dedicated to archiving originals with copy protection intact. If you've got a hard to copy disk, this website will help you get it transferred onto the PC.
Games That Weren't - Unreleased or partially finished C64 games.
Commodore Apocalypse - A very good c64 site with quite a few games to download with screenshots and descriptions, some fun c64 puzzles to keep you busy, and some good links to other c64 sites. Overall a superb c64 site.
STADIUM 64 - A very good website dedicated to the sports games on the c64. If you're looking for a sports game chances are you'll find it here.
The C64 Web Resource - Another very good website with current c64 news and lots of games to download.
Arnold FTP Site - This is a huge site with lots of C64 games to download. You'll find that more than a few of the games on this site are corrupt, but there are also many working versions of games here too. Visit the comp.emulators.cbm to learn the latest location of this archive.
C64.COM and C64.ORG - Two very good c64 sites with information, links, games to download, and Sidfind.
Immortal Antiques - The official Remember internet residence. A great group dedicated to cracking the games of old.
Fairlight C64 Tool List - A great source of tools to handle c64 related files on various operating systems.
The Triad Homepage - One of the many groups from the european C64 scene.
Triangle Online - Another european group with lots of info and games to download.
The Living Daylights - Another scene website with music, games, demos and more.
High Voltage Sid Collection - A giant collection of c64 music, here you should be able to find pretty much any piece of c64 music that you are looking for.
The Project 64 Homepage - This site has tons of C64 game manuals in text format.
The C64 Adventure Game Solutions and Walkthrough Site - Solutions to many c64 games.
---
---
Back to the top of this page
---
Last Modified on October 10, 2020
Many thanks to C64.ORG for providing the DNS entry for this site.
---